BIMONTHLY e-NEWS PROMOTING THE HR FUNCTION
Navigating the new normal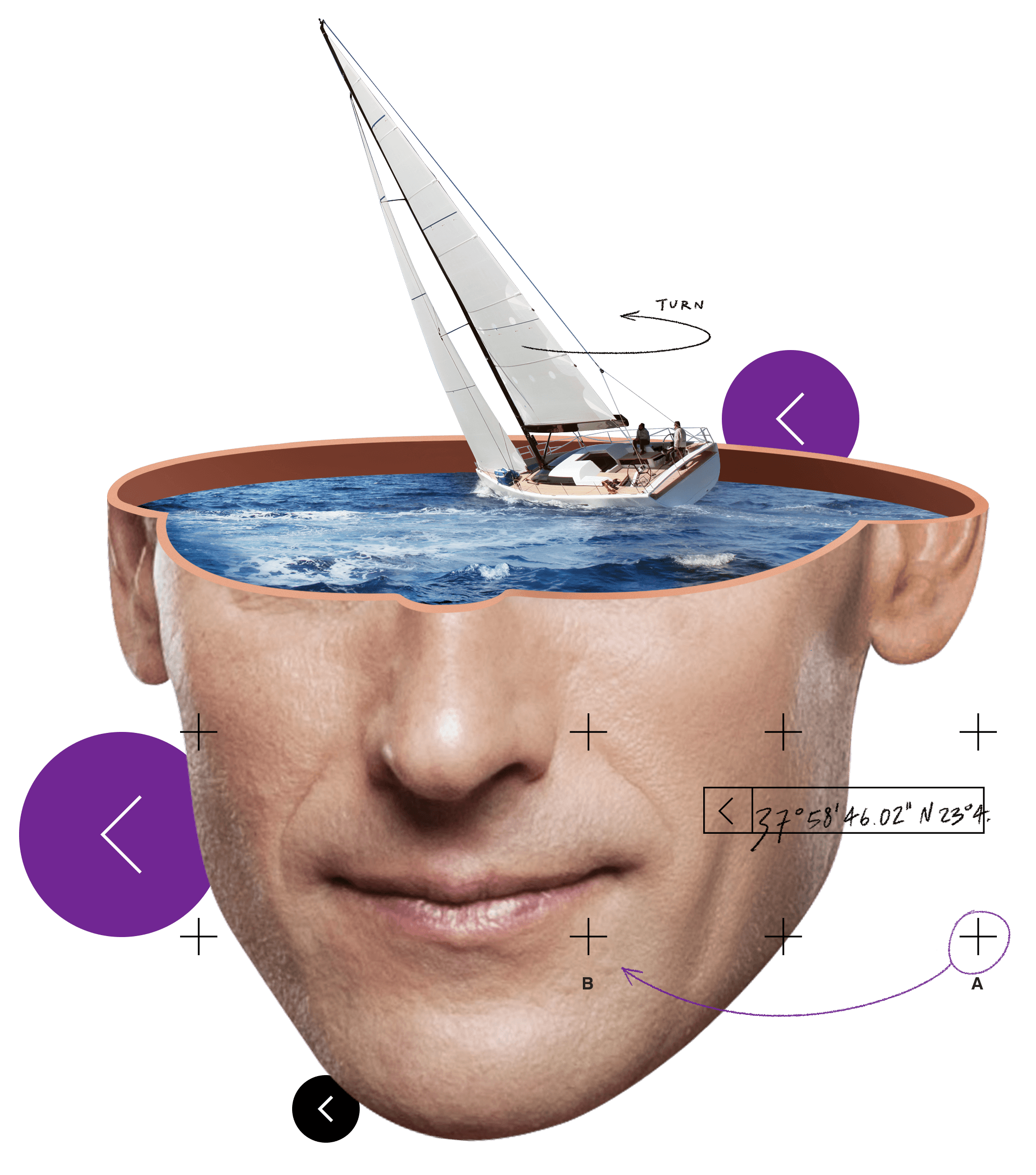 Editorial
Towards
a new HR Era
In 2020, once again, we realized how vulnerable Man is, but also how swiftly he can react in the most difficult circumstances, engaging creativity, collaboration and technology.
The world of Science and Research responded to this new situation in record breaking time, producing vaccines with a high success rate. The digital transformation has been accelerated in all areas, from public administration, to training, business operations but also in our day to day lives. Our Life has radically changed, and despite the pressure in which we have all lived - and continue to live- we become aware that flexibility, adaptability and collaboration, are all priorities of the new environment in which we are called to operate.
The post-pandemic work environment has now taken a clearer shape, expecting us to explore it and further develop it during the coming months: Hybrid, multi-dimensional and multi-dynamic. HR is summoned once again to be at the front line of this new challenge, writing the processes that are required in our new world of work.
FurtherUp, as an HR consultancy company, happened to be founded during this very unique moment. The knowledge and experience that we acquired in the past gives us the certainty that during this transitory period at a global level, we will be offering services that will help the people who work in HR to accelerate their action with the help of digital technology, take advantage of the best practices and focus on the important operational and development matters.
Further Update, FurtherUp's bimonthly e-news – is a space where we intend to present ideas, trends and practice from our beloved world, the world of HR.
We would welcome your articles and experiences that you would like to share.
The managing team of FurtherUp
EDITING TEAM FOR THIS ISSUE:
Raoul Briche
Fay Chourmouziadou
Vivi Dovinou
Dora Economou
Katerina Koronaiou
Anastasia Makarigaki
Irini Nikandrou
Maria Petrou
Dimitris Tzimas
EXTERNAL CONTRIBUTORS:
Mary Ioannidou (Intralot)
Thomas Kougoulos (AbbVie)
CONTACT DETAILS:
FurtherUp
info@furtherup-hr.com
Up Front
Navigating
the new normal
5 POINTS TO OBSERVE...
The challenges of 2020 made us realize that the world of work can easily turn upside-down. During the Covid-19 crisis, most organizations had the time to experiment with their process workflows using web technology, and people realized that this is not the end of the World of Work. On the contrary, it was an end to further improve it!
2021 will find people and organizations working hard to explore those new opportunities and rewrite their work manuals from scratch!
Τhe editing team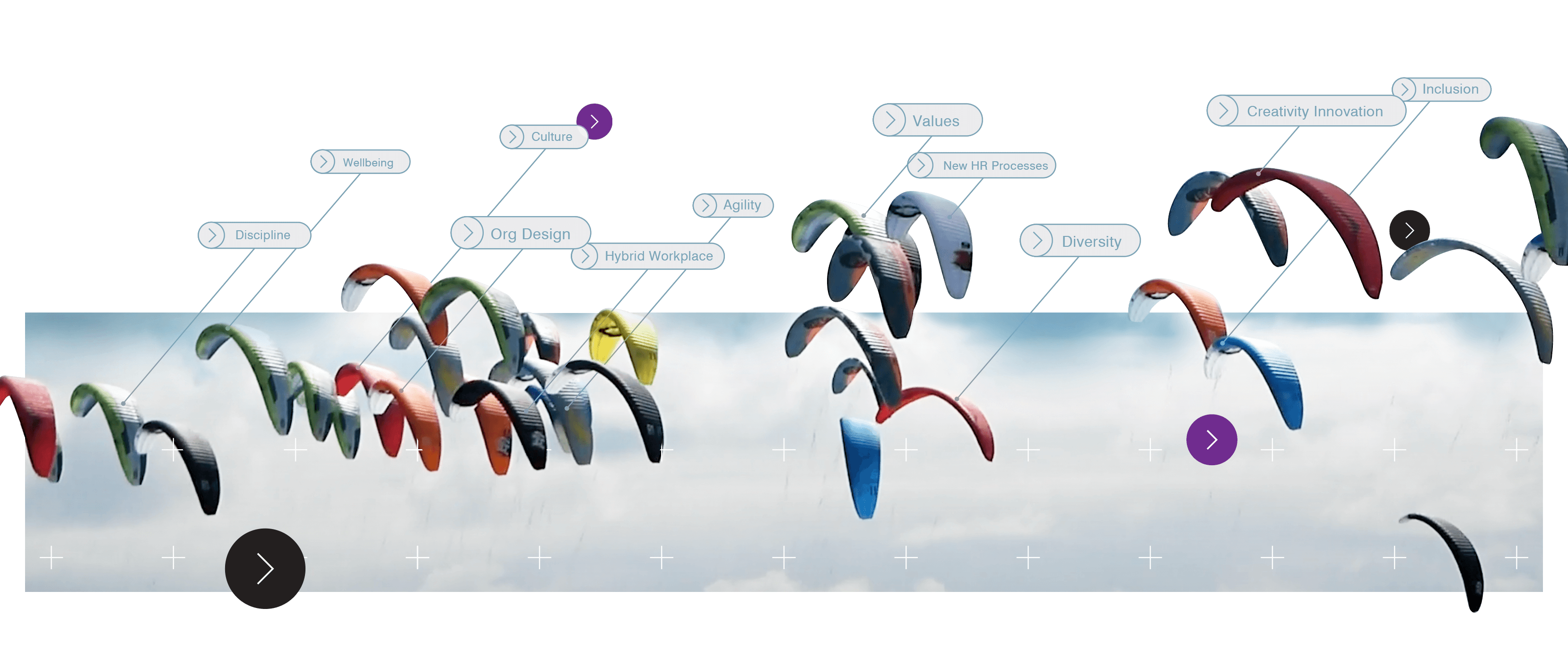 Organizational Design with an open eye to the future
"How can we design an efficient organization that the customers and market conditions expect?" This is probably one of the most frequently asked questions managers asked their HR department. But the question we should be asking is "What do we mean by agility, and how can we become more agile ourselves?"
Culture and Change: Back to basics with a creative mind
"When everything changes around you, in an unknown world, Values and Discipline can guide you" was what a seasoned Manager told his team. On the other hand, creativity and innovation are weapons you can use in such circumstances. The culture that allows those 2 forces to act in parallel is key.
Leadership with new style
Constant change and speed in the business complex transformation processes require leaders who are comfortable with rapid change and can reproduce this feeling of comfort to the entire organization. A good understanding of how the global economy functions is important, as well as soft skills, to understand and further develop people. Organizations have to review their Leadership Models to reproduce leadership thinking.
Wellbeing "at the center"
"To be productive and engaged you need to be satisfied with your work". As the new hybrid model becomes gradually established with a great percentage of remote working employees across timezones, wellbeing is at the center of any Employer branding strategy. Designing the work with wellbeing is at the center.
Diversity, Equity & Inclusion
Thanks to all the battles fought by the pressure groups (minorities and allies) in the field of social justice and business ethics, the moment is right for companies who are bold enough to mix people and ideas for the good of the customer, society and humanity. A blend of thoughts, genders, ages, nationalities can bring a holistic approach and well-rounded solution to its stakeholders.
Be our guest
Elevating
the way we work
Interview with FURTHER-UP Owning Partners: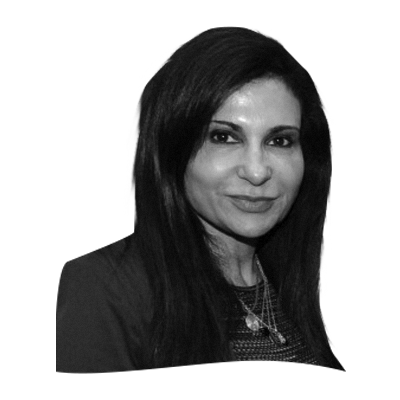 Anastasia Makarigaki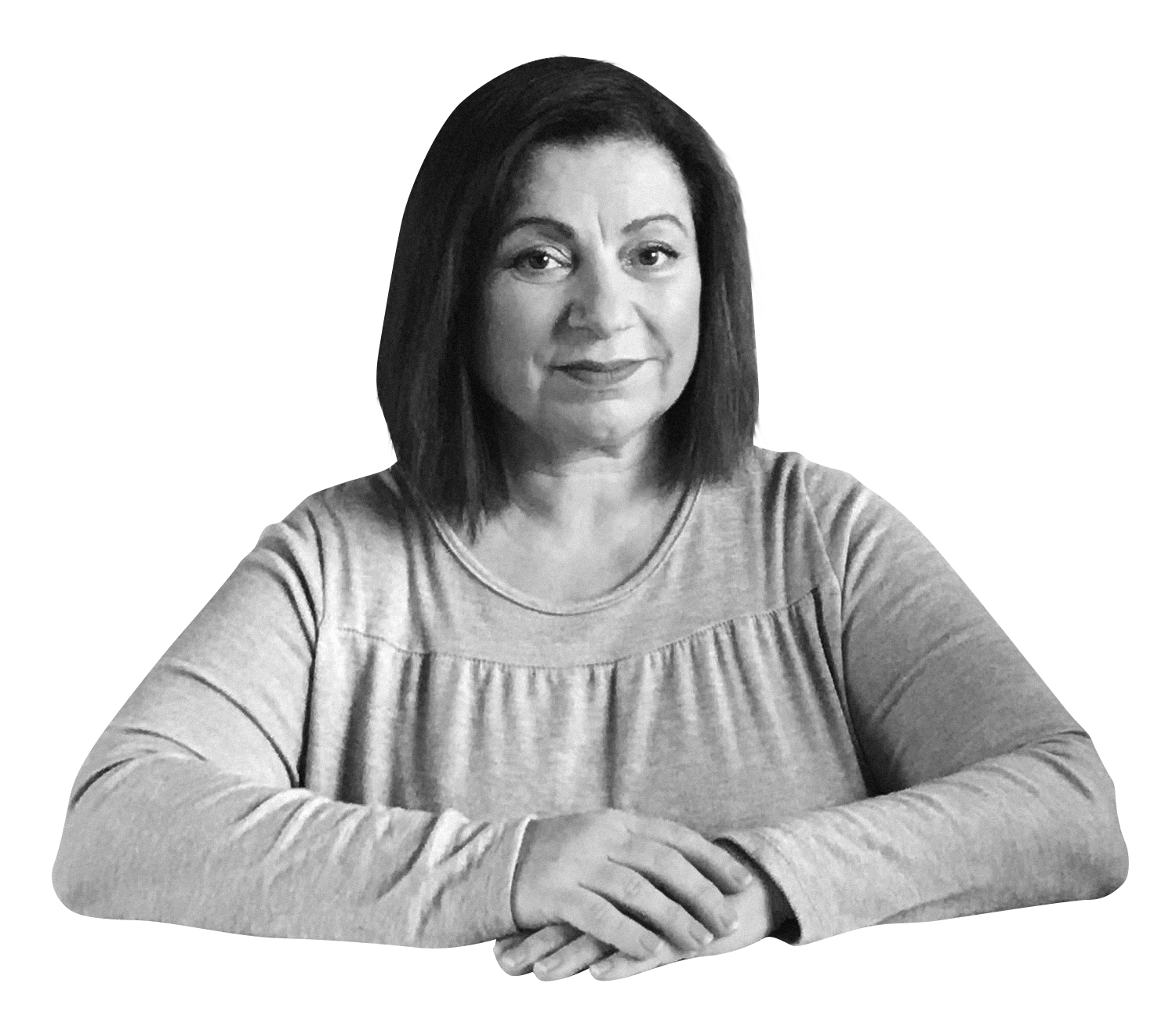 Irini Nikandrou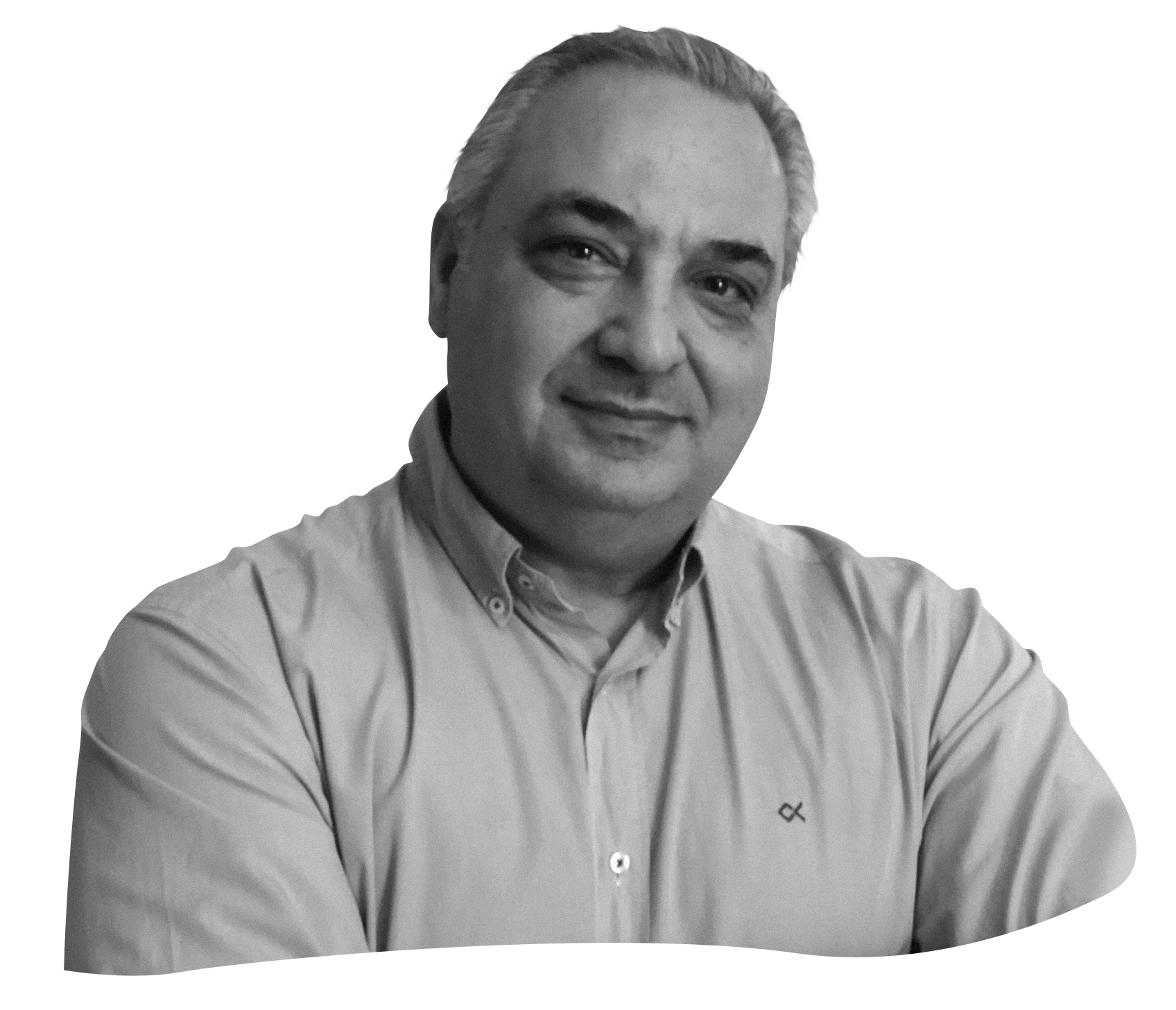 Dimitris Tzimas
Question 1
What was the temptation to launch a new HR consultancy company, given the current adverse environment?
D.T.
The first happy coincidence was that the three of us as HR colleagues who worked together for a long period decided to join our experience, with a common vision to enhance the role of HR and its contribution to the organizational and people wealth.
I believe that those special circumstances and the new reality has given me an additional purpose and passion to fulfill the dream that I have always had; to offer something new and 'avant-garde' to the HR community. Now, I feel that this time has come. I would like to use all my creativity to deploy the know-how and experience that I have been accumulating these years adding even more value to the HR landscape.
I.N.
After more than 20 years in academia, I continue to feel passionate about supporting people to unleash their own potential and improve their social assets that could give the best return to their teams, themselves and the business. In the current extraordinary circumstances, I felt a growing need to stand next to my HR colleagues and support them to uncover the prospects that digital technologies can give to their businesses. The emphasis on developing new strategic approaches in HR, bringing connectivity, inclusion, engagement, wealth and learning together was and will continue to be a driving force for this new start up.
A.M.
This specific period has demonstrated the significance of HR as function in an organization and the HR teams stood up as real heroes in the business world. The next phase involves many changes in the field of policies, corporate culture, leadership and reward and personally, it is of absolute importance to me to be beneficial and add value beyond the limits of a specific organization. This was my driving force for launching this business and reaching for other like-minded business partners. I already feel energized and honored when I talk with colleagues in the organizations who really want to "make the difference" recognizing how innovative people in HR can be. There is no better time than today, as now we can do things together! We can transform our function.
Question 2
What is the fresh thing you bring in the HR community as a company?
D.T., I.N., A.M.
Our purpose is to present a holistic and integrative approach with a refreshing eye to the whole range of the employee positive experience life cycle. Deep diving into each organization we grasp insights and trust, anticipating becoming real partners. Each project we implement to be fully integrated with previous ones and create the trail for the next ones.
We are close to the HR teams from the early planning stage until the implementation and the evaluation of results.
Listening to people's needs, understanding their painpoints and working together to bring what is "best and fresh", the latest approach to the business practice, tailored to the organization needs and specificities. Our approach is focusing on ensuring that we bring the "educated" approach, use state of the art tools and concepts sealed by an "evidence based" academic and research reference.
We trust that our long and successful track record in the HR field in diverse countries and industries, combined with the academic experience, enables us to provide efficient solutions, assuring a common code of communication with the Companies we collaborate with. We cover the needs of today and those of tomorrow which is based on digital technology and state of the art innovative methodologies.
Question 3
What is the biggest challenge for an HR professional today?
D.T., I.N., A.M.
Nothing will continue to be the same after the Covid era. One of the biggest challenges for people working in HR, in a changing world, would be to find the way to manage and empower the organization and its employees so that they can deliver effectively in the new hybrid model of work. Topics like the use of technology, remote working competency empowerment, on-boarding experience, the identification of wellbeing and mental health along with their engagement dominate and will continue to engage organizations and HR professionals.
The uncertainty and complexity in the existing environment requires HR teams to adopt holistic and individually focused approaches at the same time. The challenge for them will be to be present here and now, but also to be flexible, developing a culture of learning, engagement and empowerment in order to unlock people's potential so that they want to contribute and find meaning and purpose at work (employee experience)
HR Excellence
Certifications
of HR Excellence

During the last decade thousands of companies worldwide have made the step and got certified for their Human Resources policies and procedures, adding value to their "brand" for their current and future employees, customers and shareholders. All organizations want to be an "Employer of choice" and an HR Excellence Certification could be an essential vehicle for that.
Why should we care?
An HR Excellence Award, certifies the Employer who cares about its employees, values professionalism, follows updated HR practices and makes a difference in the field. What's more?
It is a tool for employee engagement, a unique collaborative, learning and developmental experience for those involved. This experience in turn, can leverage a virtuous circle reflected at tandem not only on people's morale and loyalty but also on business results. A renowned HR Certification, becomes a competitive advantage, establishes Employer's fame among stakeholders and attracts potential talent, contributing in Organization's continuous improvement, growth and sustainability.
What is all about?
Among numerous HR Certifications around the Globe, three really stand out, when it comes to their assessment's independent methods and impact on Employers recognition, namely, in alphabetical order, "Great Place to Work", "Investors in People" and "Top Employer".
Great place to work
"Great Place to Work Certification" is a recognition program. Through a rigorous methodology, employees' feedback (randomly selected) is collected and evaluated and companies who have built high-trust, high-performance company cultures, are recognized as such.
HOW
Launch the "Trust Index", a research-backed employee experience survey, to employees, during a 2-week period
Complete of a "Cultural Brief", which provides details about company's programs and practices
Compete according to the size of the organization to other companies that decide to participate on that particular year.
In case an Organization is recognized on the top 10 list of the Best Workplace recognition, it gets a great access to benchmarking reports and useful templates and the recognition gets published with the particular ranking as well.
Investors in people
Investors in People is a standard for people management, offering accreditation to organizations that adhere to the Investors in People Standard.
HOW
People Framework - Assessing the Organization against a predetermined analytical framework. The model audits how well the company is doing at leading, improving and supportingits people, tone from the top and is compared to other companies in its industry or its size.
Assessment - Survey people through interviews for their feedback.
Report - Recommendations to help Organization improve. There are 4 achievement levels: Standard, Silver, Gold or Platinum.
Making Improvements - Three (3) years Accreditation and an Action plan for what changes the company is going to make over that time. A practitioner checks in at 12 and 24 months to see how company's getting on.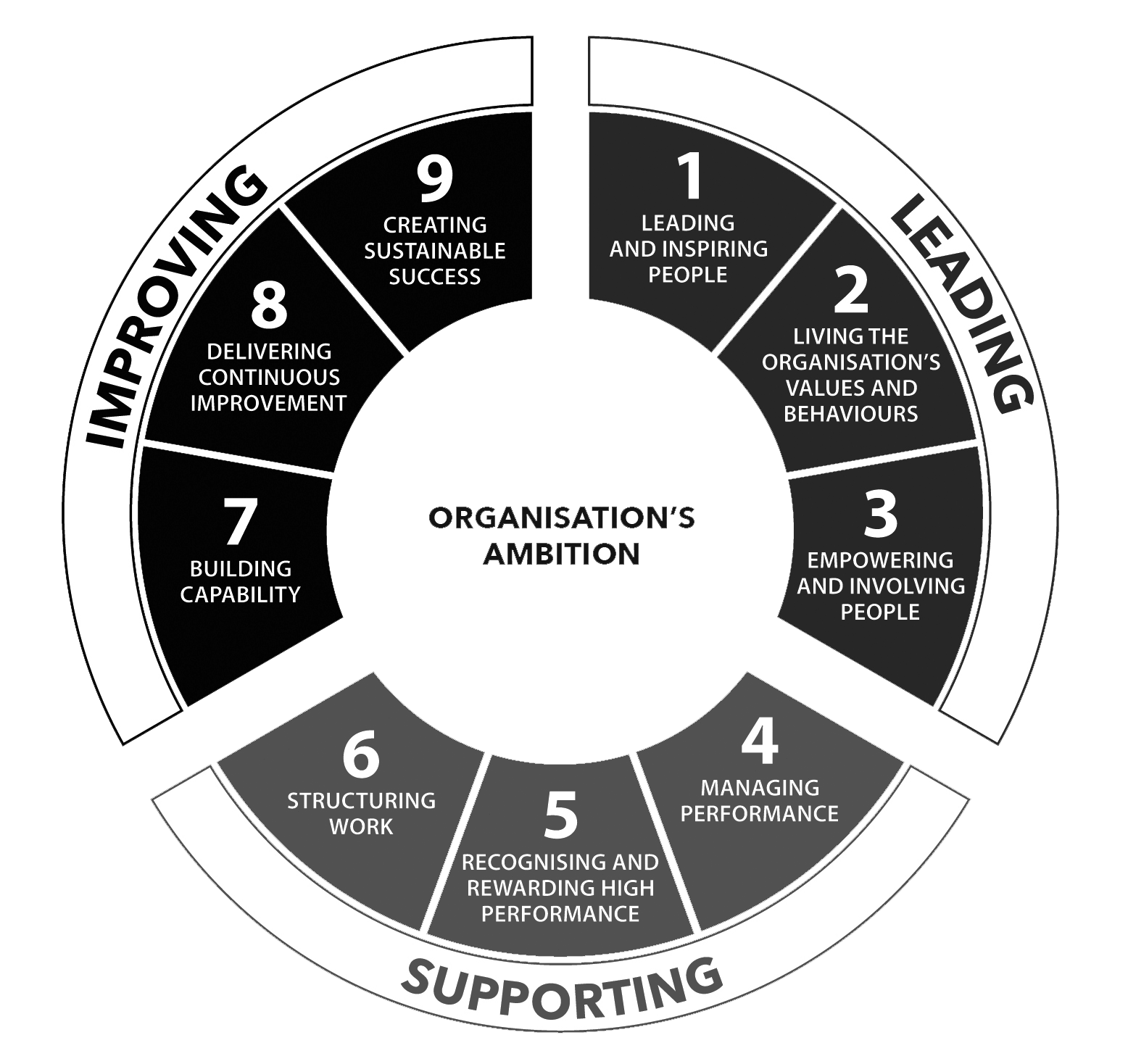 For smaller organizations with less than 50 people, there is the option of "We invest in people One (1)-year accreditation", which offers an in-depth organization analysis at a significantly reduced cost, compared to full, three-year accreditation.
On top of "We invest in People" accreditation, there're also the "We invest in Wellbeing"(examining psychological, social and physical goals) and "We invest in Apprentices" (assessing communication, commitment and development aspects) accreditations, which respectively certify an Organization's relevant practices and lasts three (3) years.
Top employer
Top Employers Institute's Certification Program is a certification program that enables organizations through its HR team to assess and improve the workplace environment, through a, widely considered, objective, fact-based and independently audited process that examines HR policies and people practices.
HOW
The Organization under assessment must first meet a set of minimum qualifying criteria. To be eligible for participation, must have at least 250 local or 2.500 international employees, as well as, formalized HR practices. Once one meets the standards gets certified, if not, it stays confidential.
Stage 1. Survey-The "HR Best Practices Survey" looks at people practices based on 6 domains which covers 10 topics expanding over 600 practices, over key HR themes: Steer, Shape, Attract, Develop, Engage and Unite.

Stage 2. Validation process - the proof is based on data
Stage 3. Certification - recognition well deserved
Stage 4. Feedback - learning from feedback is key
Certifications' ID in a snapshot
| GREAT PLACE TO WORK | INVESTORS IN PEOPLE | TOP EMPLOYER |
| --- | --- | --- |
| A Recognition Program | A Standard Certification | A Certification Program |
| Culture assessement | People management assessment | HR Policies & Practicies assessment |
| Short Employee Survey completion period | Pre-assessment on a given framework | Eligible Companies with > 250 employees or 2500 international |
| Benchmarking | Multidimensional, thorough assessment, involving employees and leaders | Thorough and multidimensional assessment |
| Annual | Time and effort consuming | Learning from feedback |
| | Continuous monitoring & feedback | Annual |
| | Options for 1 or 3 years lasting accreditation, depending on company's size | |
Well, maybe the time has come...
...to make the move and talk about your brand as an employer. Either small or large, start-up or well established, local or international, an Organization can grasp the opportunity to exchange knowledge and share practices, to improve its employees engagement, market talents attraction and stakeholders trust and to be recognized for its HR outstanding culture, people's management or policies, participating and co-shaping the global HR community.
Today, we are in the midst of challenging times and thus, more substantially than ever before, an HR Excellence Certification could be for every Organization an elevator towards a next day's new-shaped, enriched workplace and further Up!
Live Up
Wellbeing comes at the
center of Work Design

Live Up is one of the most critical pillars of our Further Up services, observing and responding to the call for action across all organizations. There have been a clear and significant increase of investment demand in the field in recent years, which has been accelerated during the pandemic. Wellness programs are becoming increasingly more popular and with an extended variety of programs comprised of biometric screening, mental health, telemedicine, mindfulness, childcare services, financial wellness, weight management, fitness, free healthy food, and the list goes on.
What could be more fascinating? Nine out of ten companies are investing more and more on mental health and employers are significantly influenced by the desire to create competitive benefit plans. Given this move, along with the remote work model where the hybrid work option becomes permanent, employers are creating a culture that helps employees stay connected, healthy, and productive.
In other words, "wellbeing" is becoming the driving force that keeps the work environment safe and workers healthy. Many companies have prioritized this evolution in order to survive. The answer to the question of work-life and safety balance is a uniform and holistic approach to wellbeing.
Redesigning work strategies to support the "remote work" function is the new mission of HR and leadership teams. In what areas? With what actions?
The 2021 Global Human Capital Trends report by Deloitte, higlights five trends, that require a variety of initiatives to integrate wellbeing practices into the workplace:
Cultural: building new social behaviours, Relational: wellness relationships among colleagues, Operational: incorporating well-being into all workforce policies from leadership, and performance management to Reward and Recognition, designing the physical workplace to promote collaboration, and creating virtual design with new technology that supports teams in navigating the new reality.
The above lead to a strategic direction that strengthens human potential and talent.
We are introducing this permanent column in our "Further Update" magazine to remain close with you, enlighten HR with great practices, trends, and concepts. We believe that small things can make a difference when they have a clear purpose and are designed with compassion and care.
The 20' chairman or chairwoman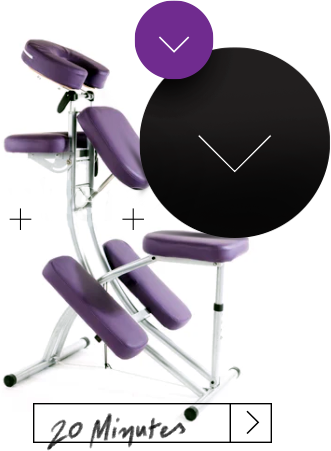 If you would have told a friend two decades ago, that companies would have a chair that is more relaxing than their CEO's, they would have told you that the World must first turn upside down...
In the meantime, the World has, indeed, turned upside down, and such a thing became not only true but also a trend... Today, "Everybody can be a Chairman or Chairwoman!" could easily be the title of an internal campaign inviting employees to enjoy 20 minutes of real relaxation during office hours. What can be seen by many as a fad is taken seriously by others, and companies like AbbVie (well-known pharmaceutical research company) who has introduced various wellness-promoting campaigns during the last years, in its Athens offices and globally.
Employee teams, the HR Department, and Managers work together to generate such ideas and decide whether there is a "ROI" for them. The idea of the massage chair and a 20' massage by a specialist (on the basis of pre-booked appointments), has been implemented successfully, before the COVID-19 period, - inciting people to have a break, relax and continue. Such "quick win" measures have no cost but can engage people and create a better work environment. And when the world returns back to normal, a good massage would bring the blood back to the body so that we can continue to work as if nothing happened...
Special thanks to Mr Thomas Kougkoulos, Human Resources Director of AbbVie, for giving us information about some wellbeing practices at his company – to be continued...
HR Good Practice
INTRALOT
puts continuous
performance into play!
by Mary Ioannidou – Talent Acquisition & People Development Director – INTRALOT
"Oh no! Time for annual performance reviews again..."
Often company HR processes are often seen as "non-productive", taking time away from "important" work-related tasks.
At INTRALOT we wanted to step away from this perception and introduced a new hybrid model of which combines traditional performance management processes, such as annual goal-setting and end-year reviews, with performance development via Continuous Performance Management (CPM).
Integrating
Annual Business high-level objectives and metrics per function for Company alignment are blended together with individual objectives that can become more specific, thus more relevant, throughout the year via CPM. The annual phases of the process are fully integrated with the continuous performance management features of the system: Activities, Achievements, Feedback, Discussion Topics and Coaching Advice.
Nothing Less / Inclusive
The parties can focus their attention on what is more relevant at a specific time but without leaving anything un-discussed during the year. Unmapped sub-goals can be onboarded during the year – on the go – and linked to the employee's annual high-level objectives; discussions can be planned for selective topics (objectives, metrics, behaviors, development needs). The system keeps notes of the activities discussions, feedback etc. to employee:manager alignment.
Time Lined
A structured performance discussion between the employee and manager takes place at least every twelve weeks. To this effect, each can add Discussion Topics (agenda items) for their next 1:1 Meeting. Moreover, they can capture the meeting in order to keep track of their discussions or progress throughout the year. The manager can also keep comments on the growth areas of the employee.
Reflective
During the 1:1, the system allows the parties to reflect on specific activities and achievements linking them to performance or development goals. Since 1:1 performance discussions can be hindered by a numeric rating system where the focus may shift to interpretation, we replaced the numeric annual performance evaluation ratings with descriptive ones.
Adapted
The new system has not fallen from HR heaven. In 2020 at INTRALOT, HR listened to our people and held sessions with management at Headquarters and our Subsidiaries worldwide.
Leveraging Growth
CPM aims to accelerate growth a) at a personal level in terms of self-awareness, capabilities results and culture alignment b) at an organizational level at the levels of company results, transparency, accountability and also culture alignment.
Open
Open, timely feedback and regular, meaningful discussions during the year, supported by guidance and coaching is very important.
INTRALOT's CPM enables both the employee and manager to ask for feedback on any activity from anyone in INTRALOT's performance development system, either at headquarters or at our Subsidiaries globally. Just as the performance of our employees needs nurturing so do our performance systems. We need to be vigilant and open to new ideas and to customize them to the specifics of our Company culture as it is continually evolving.
Tracking, Dynamic
We all recognize that in today's world objectives set at the start of the year may not be relevant at the end.
Our dynamic 'throughout the year' process matches better the 'throughout the year' reality and gives employees the opportunity to specify their current activities in real-time and to work more targeted towards reaching them. HR is an exciting place to be!
HR Pulse
The birth of the Hybrid work environment...
Employees working remotely have had plenty of time to acquire new habits, and are hoping to have access to the "best of the two working worlds" in the future as well. This, with the help of technology, creates new opportunities for the world of HR...
This questionnaire will give us all* an indication of how fast HR people see the new hybrid environment approaching as well as the type of issues that must be considered.
*We will share the results in our next newsletter issue together with any good practices.
(Please note that this questionnaire is impersonal and apart from the generic data, FurtherUp has no access to any personal data in relation to the respondents).
For more information on this you can contact our GDPR manager at info@furtherup-hr.com
0: I do not Know
1: Strongly Disagree
2: Disagree
3: Neither Agree nor Disagree
4: Agree
5: Strongly Agree
before 12 Apr 2021